Petunia Supertunia (Petunia)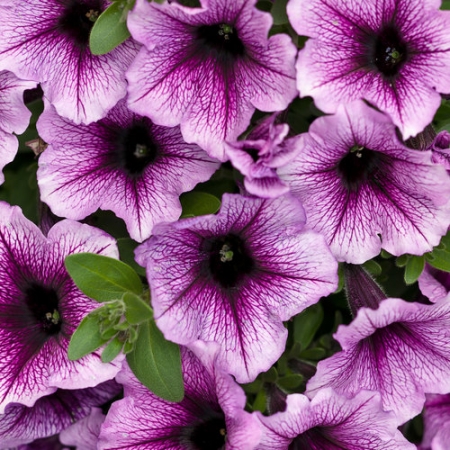 ​Color Name: Supertunia Bordeaux

Ahhhh! To be in the full sun among the birdies and the flowers, it is delightful!

Blooms all season with pink flowers highlighted by deep plum-burgundy veins; vigorous plants; fertilize often; low maintenance.

• Attracts Butterflies
• Attracts Hummingbirds
• Best Seller
• Deadheading Not Necessary
• Drought Tolerant *
• Heat Tolerant
• Landscape Plant
• Low Maintenance
• Must Have
• Pet Friendly

​​

Growing Tips: Spacing of the plants will depend on the variety you have chosen. Larger plants should be planted 12 inches apart. Miniatures can be as close as 4-6 inches. A ground cover plant should be spaced 1 to 1 ½ feet apart. Planting should be done when all danger of frost is past. Ground should be warm enough to work. Plants will appreciate a mulch to keep moisture in. When seedlings are tall enough, add a 2-3 inch layer of organic material such as grass clippings or bark. Add a slow release granular fertilizer to give them a good start. Self-cleaning no deadheading necessary. You may want to pinch them back at the top to encourage bushy growth. Their main need at this point is water. Their roots are shallow and dry out quickly. Keep them well watered through the hottest part of the summer. If the plants get leggy and produce fewer flowers, they can be cut back. Pruning them back as much as one-half can give them new vitality.
​​

---
---
Flower Color: Burgundy shades / Foliage Color: Green shades

Height: 6 to 10 Inches / Spread: 48

Hardy in Zone: 9

Blooms: Spring to Fall

​

Foliage Season:



---
Characteristics

| | | | |
| --- | --- | --- | --- |
| Fragrant | Container | Ground Cover | Extended Bloomer |

• Border

• Mass Plant

• Specimen Plant

• Landscapes

• Hanging Baskets

• Window Boxes

• Combination /Monoculture Planters