Lavandula angustifolia (Lavender)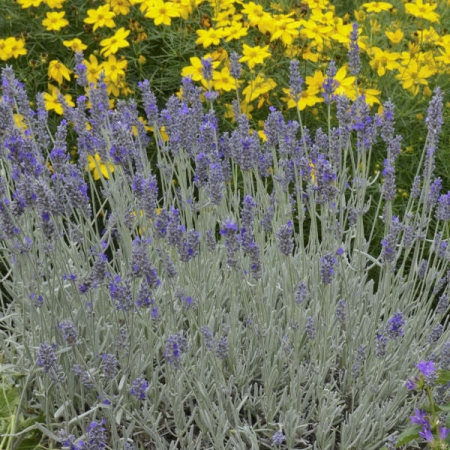 ​Color Name: Silver Mist

Touted as the most silver of any lavender, 'Silver Mist' has a ghostly, almost whitish appearance from a distance. It forms a bushy, very well-branched, uniform clump of fragrant, glaucous silver foliage. Beginning in midsummer, a week or two later than other lavenders, it produces perfectly contrasting lavender purple flowers which last for many weeks. This selection blooms in year two after it has been vernalized and it becomes more floriferous as the years go on. 'Silver Mist' is quite rare in the US so you can be one of the first to have this truly unique English Lavender!

​​

Growing Tips: Lavender has been grown for centuries for its intensely fragrant flowers and beautiful appearance. It is a staple item of every sunny garden, and its dried flowers are widely used in potpourris and arrangements.
​​

---
---
Flower Color: Purple shades / Foliage Color: Silver shades

Height: 16 to 20 Inches / Spread: 12-16

Hardy in Zone: 5

Blooms: Fall Summer

​

Foliage Season:



---
Characteristics


Native

Fragrant

Dried Flower

Cut Flower or Foliage

Container

• Mass Plant

• Landscapes

• Drought Tolerant

• Border

• Specimen Plant