Lavendula (Lavender)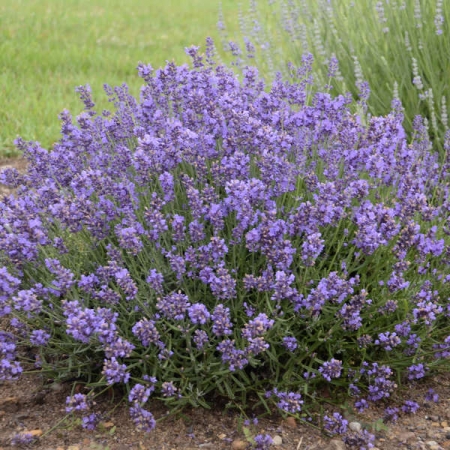 ​Color Name: Essence Purple

An English Lavender extraordinaire, "Essence Purple" is the variety for those of us who can never have too much Lavender in garden and home. Bushier, better branched, and perhaps even more fragrant than others, it is simply heavenly in color, form, and scent. Find new places to tuck this magnificent plant in your sunny garden and patio this season! "Essence Purple" is a bit more compact in height than many other varieties, reaching just 2 to 2½ feet tall but stretching 3 to 3½ feet wide. Every inch of this space is filled with small, narrow gray-green foliage on very dense branches, topped by purple blooms that begin in midsummer and continue for weeks. So bushy that it makes an excellent low hedge in the garden, "Essence Purple" regales you with that balsamic foliage scent and sweet flower aroma before you even lay eyes on the plant!

​​

Growing Tips: This lavender is semi-evergreen, so if you live in a warm climates, it will persist through winter. And like all lavender, it is repellent to deer, who prefer to nibble on less strongly-scented plants. Once established, "Essence Purple" is also very drought-tolerant, actually preferring soil on the dry side once it begins blooming. Both the flowers and the foliage are superb for cutting. A treasured herb, lavender is used for everything from air freshener to dream pillows, and a sprig here and there in indoor arrangements goes a long way toward deliciously scenting the home. Give "Essence Purple" excellent drainage, and pamper it the first season to help its root system become established. After that, you will find it quite self-sufficient, attracting bees and butterflies by the dozen season after season. If your garden doesn"t already have lavender, add it at once! And if it does, consider "Essence Purple" as an additional variety to satisfy that craving for rich fragrance and color! Zones 5-9.
​​

---
---
Flower Color: Purple shades / Foliage Color: Green shades

Height: 24 Inches / Spread: 24-36

Hardy in Zone: 5

Blooms: All Summer Fall

​

Foliage Season:



---
Characteristics


Container

Cut Flower or Foliage

Dried Flower

Extended Bloomer

Fragrant

Native

• Border

• Drought Tolerant

• Landscapes

• Mass Plant

• Specimen Plant