Echinacea Sombrero (Coneflower)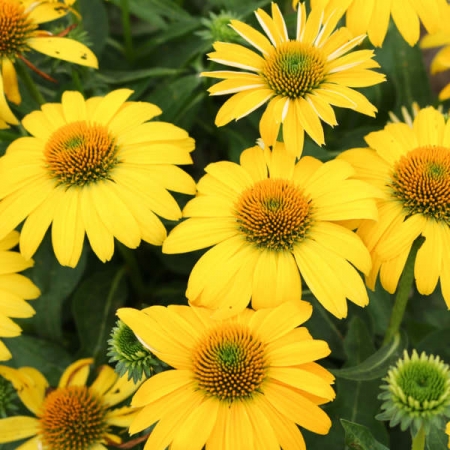 ​Color Name: Sombrero Lemon Yellow
SOMBRERO Echinaceas are evenly matched for habit and timing, making them a breeze in production. They are all very well-branched, sturdy plants that bulk up quickly and are loaded with buds for a vibrant color.
A new series of Coneflower bred to produce sturdy, well-branched compact plants that offer a high bud count. This selection produces very large, single flowers with bright yellow, overlapping petals surrounding a large brown cone. Ideal for sunny borders and growing in mixed containers. Attractive to butterflies. Excellent for cutting. Coneflowers begin blooming midsummer and continue for months if faded flowers are regularly removed. However keeping some dried flower heads on the plants in fall will provide food for wintering birds. Dried seed heads also add interest to the winter garden.
​​
Growing Tips:
Coneflowers like it sunny and hot. Though they will tolerate light shade, fewer flowers will be produced and the plants will be weakened. Light, loamy soils are best but coneflowers will grow in any well-drained soil. Once established, they are quite drought tolerant.
​​
---
---
Flower Color: Yellow shades / Foliage Color: Green shades

Height: 24 to 26 Inches / Spread: 16-22

Hardy in Zone: 5

Blooms: Summer to Fall

​

Foliage Season:



---
Characteristics

| | | | |
| --- | --- | --- | --- |
| Container | Cut Flower or Foliage | Dried Flower | Extended Bloomer |

• Border

• Drought Tolerant

• Landscapes

• Mass Plant

• Specimen Plant