Lobularia (Alyssum)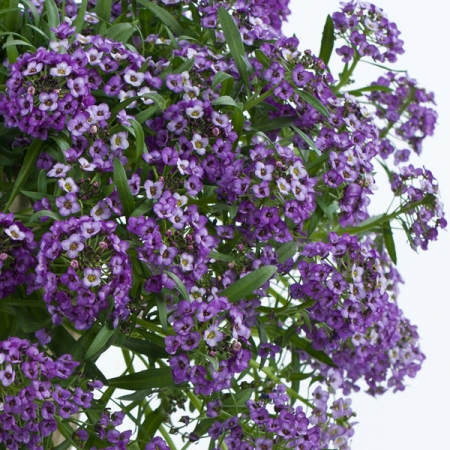 ​Color Name: Yolo Lavender

Slightly smaller, less aggressive plants than Snow Princess. Mix the Yolo series with other plants in a hanging basket or other container as well as using them in flower beds. Plants are heat tolerant and will continue to bloom through the summer if kept watered. The lightly scented flowers might be nice to have near your patio or outdoor seating area.
​​

Growing Tips: Few annual plants can match the heat and drought hardiness of sweet alyssum. The flowering plant has naturalized in the United States and thrives in a wide range of regions. Sweet alyssum flowers are so named for their lively fragrance and are members of the mustard family. While not frost tolerant, sweet alyssum plants will self sow and can provide you with year after year of bright color in milder climates.Growing sweet alyssum requires well-drained soil with moderate moisture. The plants are tolerant of many types of soils and make a cheerful accent in many situations.Flowers arise in June to October and can be encouraged to rebloom by cutting back spent flowers.
​​

---
---
Flower Color: Lavender Shades / Foliage Color: Green Shades

Height: 6 to 12 Inches / Spread: 14-18

Hardy in Zone: 10

Blooms: Summer

​

Foliage Season:



---
Characteristics

| | | |
| --- | --- | --- |
| Ground Cover | Fragrant | Container |

• Hanging Baskets

• Combination /Monoculture Planters

• Border

• Landscapes

• Mass Plant

• Window Boxes