Petunia Sweetunia (Petunia)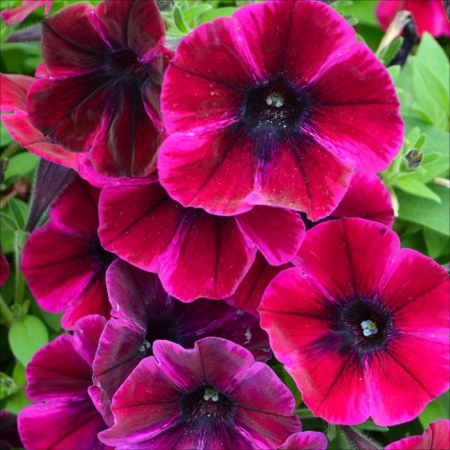 ​Color Name: Johnny Flame

Petunias are a great plant to add to any floral environment. Their high versatility makes them a wise feature in planters and flower gardens. Create beautiful potted combinations and garden landscapes that will last all season with a canopy of trumpeting blossoms with one of the broadest spectrums of floral colors to choose from. Bred by Danziger, the vigorous variety Sweetunia Johnny Flame features bright rose-purple patterned blooms with a deep purple flame. It has a spread of 18-24 inches, requiring a space of 8-12 inches to properly grow, and an optimal height of 8-10 inches.
​​

Growing Tips: The best time for planting your plant is mid-spring or early summer. Petunias are frost tolerant, in that they will endure an occasional frost during the spring, but be careful not to take your plant outside too early in the spring. If there is consistent nightly frost in your area, it may be best to keep your plant safe indoors, maintaining care in the container and ensuring optimal sun exposure, until it warms up just a bit. Petunias will last from late spring, through the summer, until the finish of fall. They are good pioneer plants in the garden, until other plants become more established. While the petunia has a high tolerance level and is low maintenance, water application a few times a week is still necessary, and fertilizer or compost application is recommended to ensure optimal plant performance. Petunia blossoms can be damaged by violent rains and improper watering methods. Be sure to apply low to the ground, near the plant's main stem, avoiding wetting the plant's foliage, for quick absorption and utilization. While the blossoms can recover after water damage, if you need them to bounce back faster, feel free to remove old flowers to encourage new bloom production. Petunias require a good moisture level but must be well drained. It is important to ensure good drainage in both containers and landscaping, to prevent diseases like root rot. Drainage holes, elevated flower gardens, and proper soil composition are three great ways to prevent root rot and help your plants maintain a healthy moisture level. Preparing the ground for your plants is always an important key to maintaining healthy plants. Pests like slugs and snails are attracted to the environment created in flower gardens and landscaping. Prevention of these types of pests includes clearing the area of holes where such pests can live. Aphids and thrips may also pose a threat to your Petunia, but are usually taken care of by predator insects. These tiny pests usually hide on the underside of leaves and are difficult to see because of their small size. Petunia flowers attract hummingbirds and butterflies because of their rich floral scent, adding a touch of beauty to your garden while promoting pollination and plant growth.
​​

---
---
Flower Color: Rose-purple shades / Foliage Color: Green shades

Height: 8 to 10 Inches / Spread: 18-24

Hardy in Zone: 10

Blooms:

​

Foliage Season: Summer



---
Characteristics

| | |
| --- | --- |
| Ground Cover | Container |

• Mass Plant

• Landscapes

• Hanging Baskets

• Easy to Grow

• Combination / Monoculture Planters

• Border

• Window Boxes