Monarda (Bee Balm)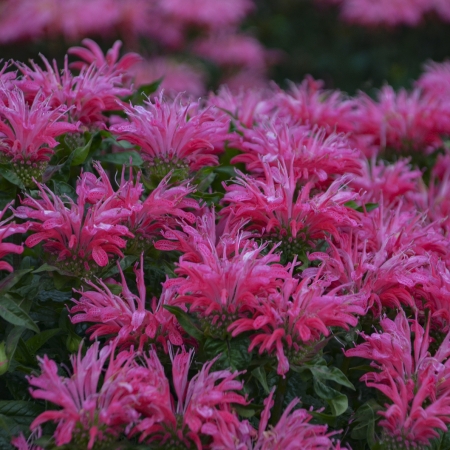 ​Color Name: Electric Neon Pink

It's electric! That's what you might think when you look at the fabulous color of this new interspecific hybrid of Bee Balm. Intense, dark neon pink flowers are produced above an upright mound of glossy, dark green foliage. The large, 3" flowers practically glow, lightening slightly for a two tone effect. Look for more bright and intense colors in the future! Monarda is native to eastern North America, so it is easy to grow and it multiplies quickly. The flowers' sweet nectar attracts scores of hummingbirds, butterflies, and bees to the garden. The aromatic foliage smells like mint when crushed and is often used to flavor teas.
​​

Growing Tips: Monarda can be found naturally along riverbanks and enjoys this rich, organic, moist soil. However, it will grow in average soil as well. Full sun is best, but light shade is tolerated. Plants tend to spread more quickly in the shade, however. Most monardas multiply rapidly either by underground stems or self-sowing. Deadheading spent blooms will prolong the bloom time. Powdery mildew is a common fungal problem with monarda. Some varieties are more resistant to it than others. To prevent this fungus from appearing, large clumps should be thinned out so that the air circulates freely around them. The soil should also be kept consistantly moist; dry soil promotes powdery mildew.
​​

---
---
Flower Color: Pink shades / Foliage Color: Green shades

Height: 20 to 22 Inches / Spread: 18-20

Hardy in Zone: 4

Blooms: Summer

​

Foliage Season: All season



---
Characteristics

| | |
| --- | --- |
| Fragrant | Native |

• Cut Flower or Foilage

• Border

• Drought Tolerant

• Easy to Grow

• Landscapes

• Mass Plant