Salvia (Salvia)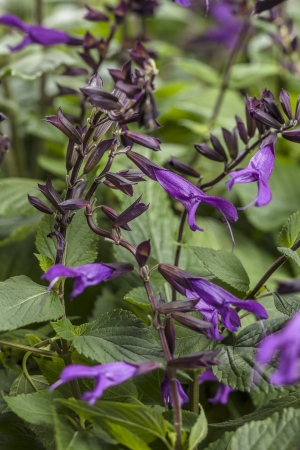 ​Color Name: Rockin Deep Purple

Purple flowers each with a black calyx on tough plants. This color is a true breakthrough for this type of Salvia. Hummingbirds, butterflies and bees all love it, which makes it great plant for pollinator gardens. Continuous bloom or rebloomer. Heat tolerant. Deadheading not necessary. Drought tolerant.
​​

Growing Tips: You can easily trim to keep the shape or size where you want it, and it will branch out and become even thicker and more full of flowers. Regular watering and fertilizing will keep the plant at maximum color and growth but it is amazingly tough and once established in a pot of the garden will tolerate lower levels of food and water. However, severe drought will cause lower leaves to drop and if this happens give it a quick haircut removing the upper 1/3 of growth and once it back to normal watering it will fill back in.
​​

---
---
Flower Color: Purple and black shades / Foliage Color: Green shades

Height: 30 to 40 Inches / Spread: 24-30

Hardy in Zone: 9

Blooms: Early Spring Spring to Fall

​

Foliage Season: All season



---
Characteristics

| | | |
| --- | --- | --- |
| Fragrant | Extended Bloomer | Container |

• Mass Plant

• Landscapes

• Easy to Grow

• Drought Tolerant

• Cut Flower or Foilage

• Specimen Plant