Petunia Crazytunia (Petunia)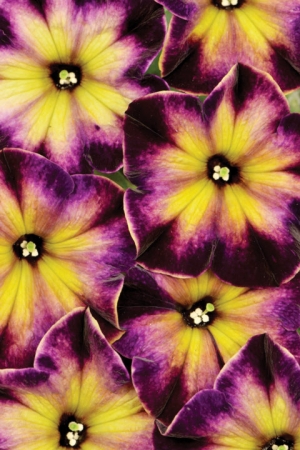 ​Color Name: Moonstruck

Go crazy with Crazytunias. This unique series of petunias is characterized by dramatic new flower colors and patterns. These standout petunias are robust, weather proof and vigorous. Crazytunias put on a brilliant performance, flowering continuously all summer long and will tolerate full sun and the heat.
​​

Growing Tips: Care of petunias includes regular watering and as much sunlight as possible to promote multiple blooms. Spreading ground cover petunias are pickiest about water, weekly watering should be included in the care of petunias. While petunias will grow in a partially shaded location, a fuller and more abundant bloom is produced in full sun. Soil prepared before planting petunias should have well-composted organic matter worked in. Care of petunias will include regular fertilization with a balanced, water soluble fertilizer designed for blooming plants. As they are heavy feeders, petunias care will also include weekly feedings. Proper light, water and fertilization when caring for petunias will ensure a long season of beautiful blooms.
​​

---
---
Flower Color: Yellow, lavender, black shades / Foliage Color: Green shades

Height: 6 to 10 Inches / Spread: 12-24

Hardy in Zone: 10

Blooms: Spring to Fall

​

Foliage Season: All season



---
Characteristics


Container

• Mass Plant

• Landscapes

• Hanging Baskets

• Easy to Grow

• Drought Tolerant

• Combination / Monoculture Planters

• Border

• Window Boxes