Rosa (Floribunda Rose)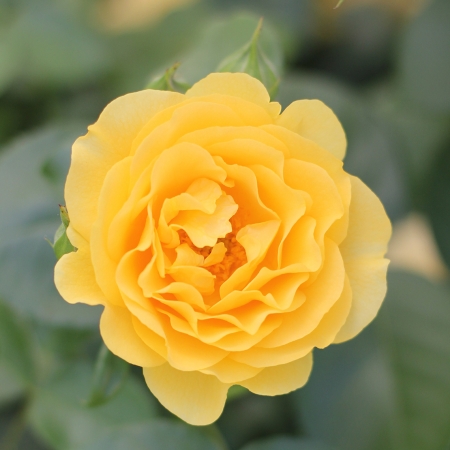 Color Name: Julia Child™
Wonderfully scented, Julia Child is a lovely variety of floribunda rose with abundant clusters of fully double, cupped, buttery-yelow flowers. The flowers are 4 inches across and packed with elegantly ruffled petals. They stand out against a healthy foliage of glossy, mid-green leaves. Compact and bushy, this rounded, small shrub is terrific for beds, borders and containers. Excellent for cutting! Very disease resistant!
​​
Growing Tips:
Plant in full sun with good air circulation for best performance. Does not require deadheading to bloom continuously.
Soil: Moist, well drained, slightly acidic soil is best; that said, roses are known to be quite adaptable to soils except for very wet areas.
Pruning: Prune in spring, cutting back to just above large buds.
Uses: Mass plantings; hedges; mixed borders; foundation plantings; cottage gardens; specimen.
​​
---
---
Flower Color: Yellow Shades Foliage Color: Green Shades

Height: 2 to 3 Feet Spread: 2 to 3 Feet

Hardy in Zone: 4, 5, 6

Blooms: Summer to Fall

​

Foliage Season: All Season



---
Attributes

Fragrant

Dried Flower

Extended Bloomer

Container

Specimen Plant

Mass Planting

Landscapes

Cut Flower or Foilage

Border