Buddleia (Butterfly Bush)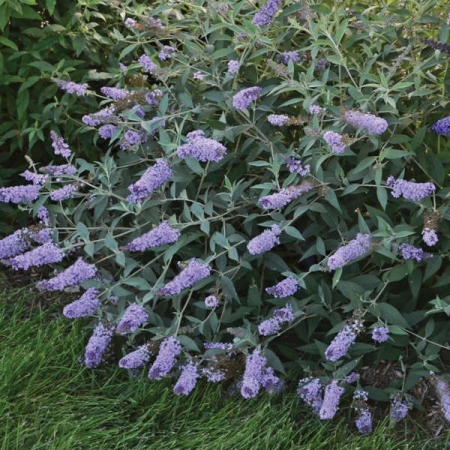 Color Name: Glass Slippers
Like a cool drink of water on a hot summer day, the silvery green foliage and icy toned flowers of Glass Slippers offers an oasis in sunny landscapes. Glass Slippers forms a relatively low, wide spreading, tightly knit cushion topped with pale periwinkle blue blossoms held on silvery, branched stems from late summer into early fall. Secondary flowers extend the show further into fall. Suitable for Cinderella's garden and all other gardening princesses!
Butterfly Bushes have certainly earned their place in the garden over the years, and its easy to see why. Just when we need a breath of fresh air in the late summer heat, they happily burst into bloom. At a time when many other plants are already spent, buddleias are just beginning their show. Their passive coloring and texture makes a wonderful backdrop for perennials, and you'll love the butterflies, bees, and hummingbirds that flock to their honey-scented blossoms.
​​
Growing Tips:
Buddleias should be planted in a full sun location with fertile, moist, well-drained soil. Studies have shown that adding lime to the soil will result in increased growth and better floral quality. They are also moderately drought tolerant once established. Since they frequently die all the way back to the ground in northern winters, it is best to cut back all of the old wood to about 12" in the spring. Doing so will result in more compact plants. They will quickly grow back to their normal height by fall and will flower just as prolifically in late summer since they bloom on new wood. You may notice that the flowers tend to be longer and deeper colored in cooler weather. Buddleias tend to break dormancy late in the spring, so don't worry if you don't see anything happening with them when your other shrubs start to leaf-out. These are very durable and reliable plants.
​​
---
---
Flower Color: Blue Shades Foliage Color: Green/Silver Shades

Height: 3 Feet Spread: 5 to 6 Feet

Hardy in Zone: 5,6,7,8,9

Blooms: Fall Summer

​

Foliage Season: All Season



---
Attributes

Fragrant

Extended Bloomer

Specimen Plant

Mass Planting

Landscapes

Easy to Grow

Drought Tolerant

Border