Achillea (Yarrow)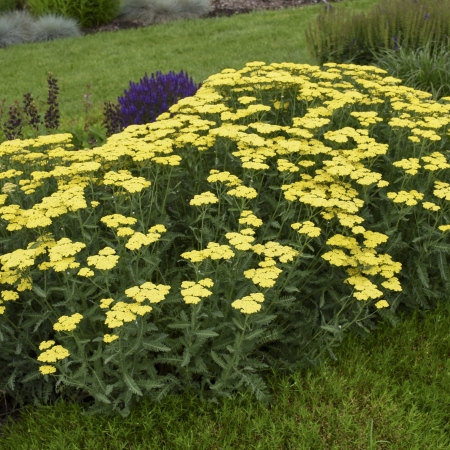 Color Name: Sassy Summer Lemon
Add a ray of sunshine to your perennial garden! Not only will you love the huge flower heads of bright, sunny yellow blooms, but you'll be equally delighted by its early bloom time-this is the first of the collection to bloom.
Planted in full sun locations, yarrow are a drought tolerant perennial that thrives in average to dry soil locations once established. Deer and rabbit resistant, Sassy Summer Lemon attracts butterflies and hummingbirds to the garden. This fast growing, easy to grow perennial is stunning in the garden as well as in the home as a cut or dried flower.
You'll love this collection of Yarrow due to each member's taller, more substantial presence than other Achillea on the market. Although they have a taller height, all members have sturdy flower stems that will look great throughout the season of its bloom. With a range of beautiful colors, such as yellow, red, pink, and orange, you'll definitely find something that fits your needs.
​​
Growing Tips:
Yarrow is one of the easiest perennials to grow and is a good choice for beginners. All it needs is full sun and well-drained soil. It thrives in average to poor soil and is drought tolerant once established. Plants grown in rich soil tend to be tall and floppy. After the flowers have faded, cut the plant back by half. This will likely stimulate a second flush of blooms in late summer.
​​
---
---
Flower Color: Yellow Shades Foliage Color: Green Shades

Height: 28 to 32 Inches Spread: 36 to 42 Inches

Hardy in Zone: 4, 5, 6

Blooms: Summer to Fall

​

Foliage Season: All Season



---
Attributes

Dried Flower

Extended Bloomer

Fragrant

Drought Tolerant

Easy to Grow

Landscapes

Salt Tolerant

Mass Planting

Cut Flower or Foilage

Border