Canna (Canna)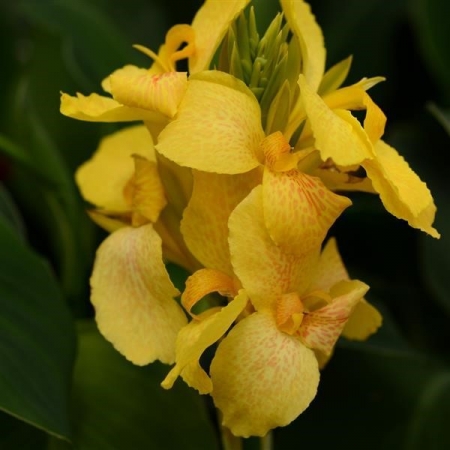 Color Name: Cannova Yellow
Shades of cream, pastel yellow and lemon brushed with a few salmon speckles all on one bloom, making a real statement in the garden. Cannas love sun and require a minimum of four hours of direct sunlight. Ideal for mass plantings, bedded areas or containers.
Cannas are tropical and subtropical flowering plants with large, banana-like leaves. They can be grown as annuals in cooler regions. Cannas will instantly add a touch of the tropics to any landscape. A surge in interest and hybridizing has resulted in a dazzling array of many bold, colorful cannas to choose from.
​​
Growing Tips:
Cannas may be planted in the spring after danger from frost. Best results are achieved when planted in a loose, fertile and well-draining soil that has warmed to at least 60 degrees. Cannas will tolerate a wide range of growing conditions. They love sun and require a minimum of four hours of direct sunlight. Cannas should be watered thoroughly once a week by slowly soaking the area around roots.
An application of fertilizer or compost on garden beds and regular fertilization of plants in pots will help ensure the best possible performance. We suggest fertilizing every two weeks during the hot summer months of June, July and August with Maxsea, which you can purchase at Zehr's. When planting in containers, hanging baskets and window boxes, we recommend using our potting soil which is specially formulated for our plants.
​​
---
---
Flower Color: Yellow Shades Foliage Color: Green Shades

Height: 24 to 36 Inches Spread: 12 to 24 Inches

Hardy in Zone: 7

Blooms: Summer to Fall

​

Foliage Season: All Season



---
Attributes

Extended Bloomer

Container

Specimen Plant

Mass Planting

Landscapes

Easy to Grow

Drought Tolerant

Cut Flower or Foilage

Border