Clematis (Clematis Group 3)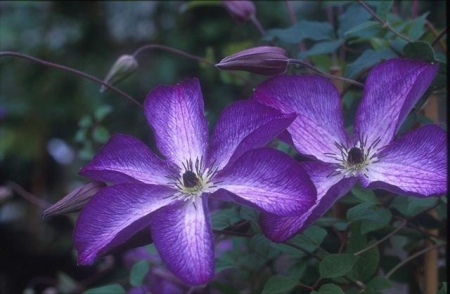 Color Name: Viticella Venosa Violacea
Bred in 1883, award-winning Venosa Violacea is one of the long-established favorites. This elegant deciduous vine produces a profusion of deep velvety purple flowers with a prominent white stripe and purple stamens.
For beautiful colors, extravagance of blooms, and graceful habit, nothing compares with Clematis, the queen of the flowering vines. Whether used on posts or fences, clambering through shrubs and trees, or following wire frames in borders, they will enrich the landscape.
​​
Growing Tips:
LOCATION: Clematis require an area that will have at least 6 hours or more of direct sunlight. The plant, depending on the variety, will grow upright six to twelve feet. However, clematis can only grow as tall as the trellis arbor or support that you have given it. For example, if your trellis is eight feet tall and the clematis you choose grows twelve feet, it would simply hang over and grow down the other side. Clematis roots need shade to prevent the roots from drying out. Mulching the base of the plant not only helps to keep the weeds down but more importantly will keep the moisture in, especially in a hot dry summer.
SOIL PREPARATION: Clematis need a moist, well-drained soil. Prepare your hole at least one foot deep and mix the soil with 50% peat moss or well-rotted manure. Backfill the hole with the amended soil and plant your clematis so the top of the root ball is just below ground level covering the first set of eyes. The plant should be mulched and kept moist, not wet, especially during the first growing season. Fertilize every four weeks during the growing season with a well-balanced liquid fertilizer.
SUPPORT: The main stem of the clematis must have a firm support, otherwise wind damage may occur. As the newly planted clematis produces new growth, it should be carefully trained and tied into position.
PRUNING: This group blooms later and from new growth. This group should be pruned in February or March to 6"-8" as new leaf buds begin to show low on the plant. All dead material above these buds should be removed at this time. Clean out any old foliage or foliage with mildew at this time also.
​​
---
---
Flower Color: Purple Shades Foliage Color: Green Shades

Height: 6 to 13 Feet Spread: 4 to 5 Feet

Hardy in Zone: 4, 5

Blooms: Summer to Fall

​

Foliage Season: All Season



---
Attributes

Extended Bloomer

Trellis or Wall

Specimen Plant

Landscapes