Evergreen Thuja occidentalis (Arborvitae)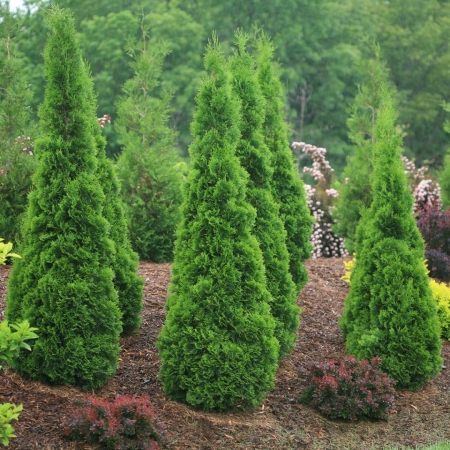 Color Name: North Pole
A very cool evergreen that will add elegance to your garden all year round! Fast-growing North Pole Arborvitae features a narrow, pyramidal form, ideal as a specimen or in privacy screens. Instant elegance and year-round color for your landscape!
​​
Growing Tips:
Tolerates heat and drought once established. Keep watered after pruning to minimize browning; this is also an effective strategy to minimize winter damage to foliage in cold areas.
Soil: Adaptable in terms of pH; best growth is in moderately moist, cool, fertile soils.
Pruning: Does not strictly require pruning, though it does tolerate it well. Prune in spring before new growth begins.
Uses: Hedges; screening; mixed borders; foundation plantings; specimen.
​​
---
---
Flower Color: Grown for Foliage Foliage Color: Green Shades

Height: 10 to 15 Feet Spread: 3 to 5 Feet

Hardy in Zone: 4, 5, 6, 7

Blooms:

​

Foliage Season: All Year



---
Attributes

Native

Mass Planting

Evergreen

Easy to Grow

Drought Tolerant

Border