Rosa (Rose)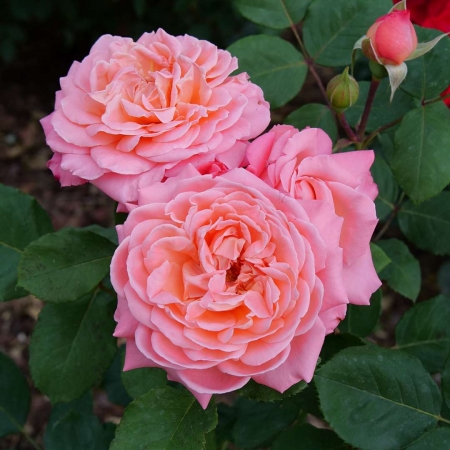 Color Name: Reminiscent™ Coral
Reminiscent Coral Rose boasts blousy, bowl-shaped flowers with deep pink-coral tones and an appealing copper center. Dark green foliage accents the flowers and stays clean and healthy through the season. Deadheading not required for continuous blooms.
Reminiscent Roses represent a new day for rose lovers, combining the classic beauty and fragrance of old-fashioned roses with modern-day performance. They feature vibrant colors, sweet fragrance, high petal count and unstoppable flower power.
​​
Growing Tips:
Plant in full sun with good air circulation for best performance. Does not require deadheading to bloom continuously.
Soil: Moist, well drained, slightly acidic soil is best; that said, roses are known to be quite adaptable to soils except for very wet areas.
Pruning: Prune in spring, cutting back to just above large buds.
Uses: Mass plantings; hedges; mixed borders; foundation plantings; cottage gardens.
​​
---
---
Flower Color: Pink/Coral Shades Foliage Color: Green Shades

Height: 2 to 3 Feet Spread: 2 to 3 Feet

Hardy in Zone: 4, 5, 6

Blooms: All Summer

​

Foliage Season: All Season



---
Attributes

Fragrant

Extended Bloomer

Dried Flower

Landscapes

Mass Planting

Easy to Grow

Cut Flower or Foilage

Border

Specimen Plant