Coleus (Coleus)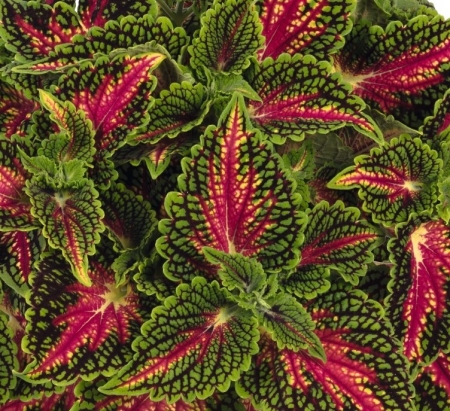 Color Name: La Rambla
The deep green foliage is veiled by dark maroon veining with bright red centers and serrated edges which makes for a dramatic display. La Ramble makes a great thriller in combination planters and is stunning planted en masse in borders.
La Ramble is bred to take the heat and bloom very late in the season, if at all, extending its garden performance into the fall. Sun to shade tolerant. Foliage interest. Heat tolerant. Deadheading not necessary. Adaptable as a houseplant.
​​
Growing Tips:
Coleus do not show their best color when over fertilized, so fertilize at half strength on a regular basis, or use a time release fertilizer (recommended). Pinching the growing tips of your coleus when they are young will increase branching and make your plant more bushy. Some coleus plants will bloom, and the blooms may be pinched off or allowed to develop according to your personal preference. It doesn't hurt coleus to be pinched and pruned. In fact, it is often necessary to prune coleus in mid-summer to help the plant keep its shape and freshen its appearance.
When planting in containers, hanging baskets and window boxes, we recommend using our potting soil which is specially formulated for our plants.
​​
---
---
Flower Color: Grown For Foliage Foliage Color: Maroon/Red/Green Shades

Height: 16 to 36 Inches Spread: 12 to 24 Inches

Hardy in Zone: 10

Blooms: Summer

​

Foliage Season: All season



---
Attributes

Container

Window Boxes

Specimen Plant

Mass Planting

Landscapes

Easy to Grow

Colorful Foliage

Border