Dahlia (Dahlia)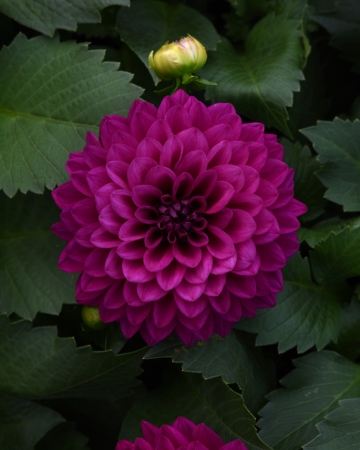 Color Name: Venti Royal Purple
Venti Royal Purple Dahlia features richly colored, exotic blooms that will brighten your garden with its cheerful flower power. The fully double flowers bloom from planting to first frost adding nonstop color and drama to your garden. Venti Royal Purple Dahlia is well branched with an exceptional habit making it ideal for your patio containers, window boxes and landscape. Dahlias are a magnet for butterflies and birds.
​​
Growing Tips:
Dahlias love to bask in the sun and enjoy 6 hours or more of daily sunlight. Water your dahlias regularly to promote lush blooms. Make sure the soil is well drained because soggy soil and overwatering can cause root rot and yellowed foliage.
An application of fertilizer or compost on garden beds and regular fertilization of plants in pots will help ensure the best possible performance. We suggest fertilizing every two weeks during the hot summer months of June, July and August with Maxsea, which you can purchase at Zehr's. When planting in containers, hanging baskets and window boxes, we recommend using our potting soil which is specially formulated for our plants.
​​
---
---
Flower Color: Purple Shades Foliage Color: Green Shades

Height: 16 to 18 Inches Spread: 14 to 16 Inches

Hardy in Zone: 10

Blooms: Spring to Fall

​

Foliage Season: All Season



---
Attributes

Extended Bloomer

Container

Mass Planting

Landscapes

Easy to Grow

Cut Flower or Foilage

Border

Specimen Plant

Window Boxes