Evergreen Chamaecyparis (False cypress)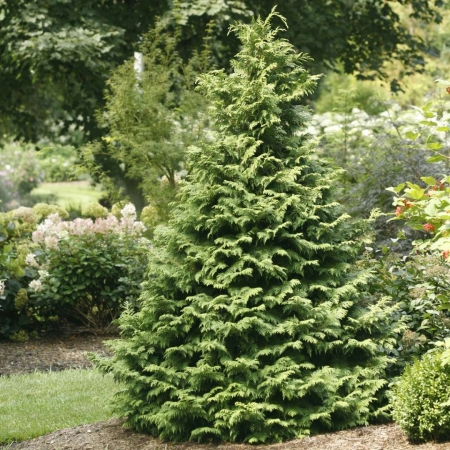 Color Name: Soft Serve®
Soft Serve lives up to its name with soft, distinctive foliage. It is a good substitute for dwarf Alberta spruce. Soft Serve is a compact, conical false cypress with graceful, soft fern-like branches. The leaves are bright green on top and flecked with silver-blue on the underside.
​​
Growing Tips:
Little pruning is required. Nice as an eye-catching specimen.
Soil: Well-drained soil is essential. However, this species will not tolerate dry soils or drought conditions. Maintain even moisture with a layer of mulch.
Pruning: Prune to shape in late spring, if needed.
Uses: Specimen, container, hedge, mixed borders
​​
---
---
Flower Color: Grown for Foliage Foliage Color: Green Shades

Height: 6 to 10 Feet Spread: 6 to 10 Feet

Hardy in Zone: 4, 5, 6, 7

Blooms:

​

Foliage Season: All Year



---
Attributes

Native

Specimen Plant

Mass Planting

Landscapes

Evergreen

Border